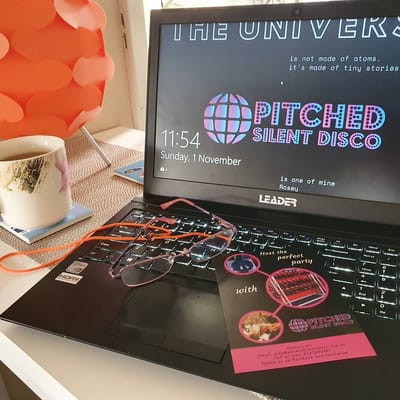 When dreams become reality . . . .
It came to me in a dream one night; I was with my Grandad who was quite a character and it was all there, the name, the slogan, the fun, the smiles, the laughter. . . . And here we are today launching PITCHED Silent Disco in 2020 the craziest year in recent history to launch a new business and in the middle of the desert too. I must be mad right?
So I'm bringing the Kalgoorlie Social Scene into the 21st Century . . . .
It's very simple you hire headphones and up to 3 transmitters plug in some music or a microphone and away you go, party started . . . . BOOM you have joined the Silent Disco phenomenon.
With PITCHED Silent Disco at your event you can party into the wee hours without breaking local council regulations, the law or disturbing the peace . . . . "Silent Disco house parties should be mandatory!" I wonder who said that.
PITCHED Silent Disco can be booked for any event:
'Birthdays, Engagements, Weddings, Children's Parties, House Warming/Leaving Party, Family Get Together, Holy Communion, Celebration of a loved one's life, Outdoor Cinema Nights, Conferences, AGMs, Group Training, Your Next Corporate Party, School/Sporting Club Social or Function, Group Fitness, Yoga/Mediation . . . .
If you can think of an event which requires music or a microphone you can adapt Silent Disco to suit your needs.
Just ask and we'll find the solutions you're looking for.
We look forward to working with you to ensure you host the event everyone is talking about for months on end and hope you enjoy Silent Disco as much as we do.
P.s. Don't forget to #PITCHEDSilentDisco when you up load your pics/videos to social media
P.p.s. I Came Here To Party Didn't Everyone! . . . . Did you figure it out yet?